Suggested Sci-Fi Reading (Veteran's Day Edition – PART II)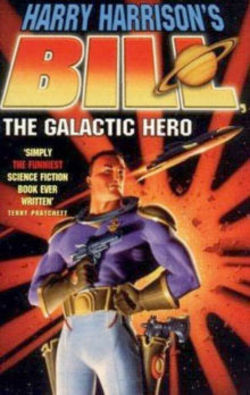 I'm always surprised when people don't know Bill the Galactic Hero. It's a very funny sci-fi saga that can be described (in the most Hollywood terms) as Starship Troopers meets Catch-22.
Author Harry Harrison is probably best known for writing Make Room, Make Room (which was filmed as Soylent Green) and the popular series The Stainless Steel Rat. He's a strong writer who knows how to maximize his plots to squeeze out the most adventure. But he's also a very, very funny guy. One of his funniest books is Star Smashers of the Galaxy Rangers a cold-war send-up of Flash Gordon space pulp.
But my suggestion for Veteran's Day is Bill, the Galactic Hero.
Harrison tells a fast-paced story of a young fertilizer farmer who is lured into a long-term contract with The Space Troopers. The book offers a ruthless depiction of army life and the don't-ask-questions military mentality. I've read that it was written as a response to Starship Troopers and when if he'd read the book, Robert A. Heinlein said he was not amused.
Harrison plays with familiar action-adventure tropes and turns them on his head. The 1965 novel holds up today, and it's the perfect kind of book to appeal to young readers and make them question their authority figures. (Yay!)
Harrison followed the original book with six more novels between 1989 and 1992, including Bill the Galactic Hero on the Planet of Tasteless Pleasures and Bill the Galactic Hero on the Planet of Zombie Vampires.
Read More