Stuart Gordon No Longer "Stuck" for Release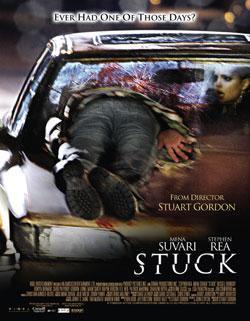 Some would say that Stuart Gordon is a one-trick pony, but I'd say that Re-Animator gives him the right to keep plugging away. Sure, there was Space Truckers and Dolls, and the man is obsessed with H.P. Lovecraft — Re-Animator is based on Lovecraft work, as is Gordon's Masters of Horror: Dreams in the Witches House — but his new film sounds like the kind of horror that keeps you awake at night wondering, "what if this happened to me?"
For Gordon's latest attempt, he has put Lovecraft on the shelf and based Stuck on the true story of a woman who hit a man with her car while intoxicated and left him embedded in the car's windshield in the garage for three days. He bled to death. With the critical buzz being mostly positive, Stuck has been picked up by ThinkFilm for a theatrical spring release and Image Entertainment for DVD release shortly there after, according to The Hollywood Reporter.
Read More