Strike's First Sci-Fi Casualties: BSG and Bionic Woman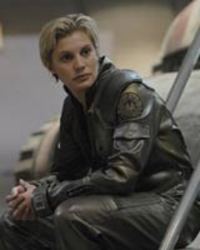 A scant two weeks after the Writer's Guild of America strike commenced, the genre has it's first sci-fi casualties: both NBC's Bionic Woman and SciFI's Battlestar Galactica have stopped production.
The issue, of course, is a lack of completed scripts to start filming. With the writers on the picket lines, half-finished scripts have to wait to be fleshed out… with the obvious consequence that the shows themselves have to wait.
For BSG fans, this is a particularly painful blow. The hiatus between season 3 and season 4 is already looking to well over a year, and production of season 4 was meant to go on until March. That probably means only a handful of episodes have been filmed. Even if we get the first part of BSG Season 4 early in 2008, we probably won't see the second half of that season until later that year or even 2009. Given how close the crew to Galactica is to reaching Earth, that's a pretty obnoxious wait.
Bionic Woman, on the other hand? Well, really, no one but the production staff cares about that show. But that's a point in and of itself: the WGA strike is putting a ton of the writers' non-union colleagues out of work temporarily, even as it stalls for six months or more the contemporary television sci-fi renaissance we've all been enjoying.
First WGA Strike Sci-Fi Casualties [Slice of SciFi]
Read More