Strike While The Writers Are Hot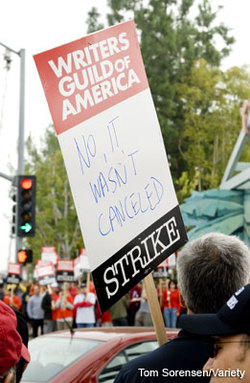 The Writer's strike enters its second week and word of canceled projects are already starting to surface. 20th Century Fox almost closed the X-Files sequel, but it would have been too expensive to shutter with shooting scheduled for December. However, Terminator Salvation: The Future Begins, the next entry in the quickly deteriorating Terminator series, could be terminated if the strike stretches beyond April. The same goes for Universal's The Wolfman.
Writers are absorbing much of the strike fallout. Those in the TV industry have already been hit with early layoffs, and a clause in contracts may allow companies to negate term deals and reduce actors' paychecks. No one is safe. Of course, the cuts always begin at the bottom. Fox let go all of the Family Guy assistants last Friday. It looks like that is just a taste of things to come.
With Hollywood playing hardball a week into the strike, it's hard to say how long the writers will hold out. While TV audiences will see a drop in quality programming fairly quickly, it looks like the strike will have to continue for a while for us film freaks to see any damage — other than the already-crappy state of many horror movies. Hopefully, some independent filmmakers will step up and let their horror loose when Hollywood stumbles.
Read More