Stephen King's New Novel Drops In January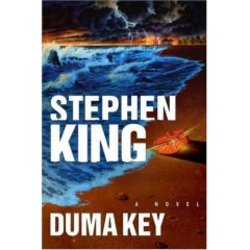 Amazon has just listed the new Stephen King novel, Duma Key, and it's already at #202 on the best seller list, even though it won't hit the shelves until January 22, 2008. The big book is almost 600 pages long and the cover seethes horror: the strange light coming from the wicker box (Beware Pandoras everywhere!), the stormy seas crashing against the sandy shore, the lightning setting the mood on the horizon. Will it hit that sweet, little beach house on pylons?
So, is this the perfect storm of horror?
The description reads "Six months after a crane crushes his pickup truck and his body, self-made millionaire Edgar Freemantle launches into a new life. His
wife asked for a divorce after he stabbed her with a plastic knife and
tried to strangle her one-handed (he lost his arm and for a time his
rational brain in the accident). He divides his wealth into four equal
parts for his wife, his two daughters, himself and leaves Minnesota for
Duma Key, a stunningly beautiful, eerily remote stretch of the Florida
coast where he has rented a house. All of the land on Duma Key, and the
few houses, are owned by Elizabeth Eastlake, an octogenarian whose
tragic and mysterious past unfolds perilously. When Edgar begins to
paint, his formidable talent seems to come from someplace outside him,
and the paintings, many of them, have a power that cannot be
controlled.
"Soon the ghosts of Elizabeth s childhood return, and the damage of which they are capable is truly terrifying."
In The Paris Review, King himself said that the paintings, "have this power so that sometimes if he paints things into the
world they kind of appear and if he paints things out they disappear,
including people. And there is something going on, on this island, this
Duma Key that is actually amping that talent up and making it stronger
because there is something wrong there. That's the real basis of the
story."
Sure, King's somewhat obsessed by his terrible injuries that occurred in the past near his house in Maine: maybe that's why he's started the story with an injury that crushes the body. But make no mistake: this is the master at work. And the master doesn't fool around with autobiography. The master wants to scare you. So be very afraid.
Read More