Steampunk Daleks in Victorian London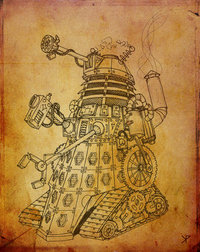 Steampunk and sci-fi go together like peanut butter slathered on the thighs of a virgin angel made entirely out of chocolate. As cool as any robot or technology is, it becomes even cooler retro-fitted by a Victorian mad-scientist with rusty gears and sprockets.
Knowing this, Deviant Art user Promus-Kaa created this incredible version of a steampunk Dalek. Promus-Kaa based his design upon an exchange from the Doctor Who episode "Doomsday," where a Dalek explains that they have no concept of aesthetic design or elegance.
I love it. You can just imagine a Doctor Who episode in which the Doctor goes back to 19th Century London, only to find a Dalek — trapped there a century before — that lives in the sewers, having cobbled together steam-driven additions to its rusty chassis to aid in its Victorian exterminations.
Steampunk Dalek [Deviant Art]
Read More