Starbuck Leaves Bionic Woman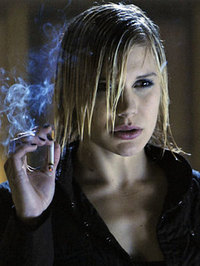 NBC's implausible relaunch of The Bionic Woman has been a stupid idea executed poorly from the start. The Bionic Woman only had one saving grace: Katee Sackhoff, Miss Starbuck herself, as Sarah Corvus, the nemesis of Michelle Ryan's titular character. Along with the Sci Fi Channel's Flash Gordon, it quickly catapulted itself to the top of my list of shows I wanted to see shot, executioner-style, through the back of the head by the WGA Strike.
Unfortunately, NBC hasn't canned Bionic Woman just yet. Even more unfortunately? Katee Sackhoff's leaving the show.
Apparently, Sackhoff met with one of the producers and she's not expected to return even if the show resumes production after the strike… which is looking increasingly unlikely, given the ratings, so this may all be a moot point.
Rumor on the street is that the reason is that Sackhoff and Ryan don't get along. I say fire Ryan and hire Katee, personally. Katee Sackhoff as an evil bionic woman? Hell, I'd watch that.
Sackhoff Done With Bionic Woman [Slice of SciFi]
Read More