Star Trek XI's Open Casting Call For Mutants and Freaks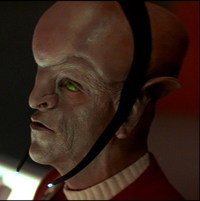 Speaking of Star Trek XI, are you a freakish anthropoid with a facial construction that makes members of the opposite sex wince? Are you the love child of your mother and her brother? Were you, like Michael Berryman, born with no hair, no sweat glands, 12 fingers and a severe case of Hypohidrotic Ectodermal Dysplasia? Then good news! Starfleet wants you.
According to the press release, Abrams is "especially seeking talent with interesting and unique facial features, such as: long necks, small heads, extremely large heads, wide-set eyes, bug eyes, close-set eyes, large forehead, short upper lip, pronounced cheekbones, over- or undersized ears and/or nose, facial deformities, ultra plain-looking people, ultra perfect-looking people, pure wholesome looks, twins, triplets, emaciated talent, in addition to regally poised and postured talent." In other words, mostly freaks, but if you're beautiful and don't mind sliding onto the casting couch in something skimpy, there's probably a role for you too.
This is a good chance for ugly people to finally break into Hollywood. Unfortunately, the same can't be said for fatties: the press release clearly states that "this is a highly stylized feature film and the majority of the clothing will be form fitting so thin to athletic body types are what we are primarily seeking." There by immediately disqualifying the vast majority of Trekkies world-wide.
Open Casting Call for Abram's Star Trek [IESB]
Read More