Star Trek The Menagerie in Theaters This Week!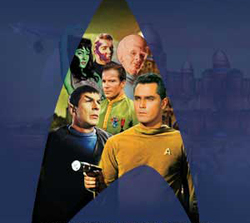 Over at Monsterfest, horror honcho Matthew Kiernan wonders why the After Dark Horrorfest 2007 tanked so ignominiously in theaters. I have an idea: most people just didn't know about it. The fest is running in my neighborhood, but you'd never know it from the lack of advertising, publicity and promotion. Seems that if you didn't know enough to seek it out, it will pass you by.
The same thing may be true of tonight's screening in more than 300 theaters of "Star Trek: The Menagerie." Digitally-equipped cinemas will screen this remastered version of the episode of the original series that incorporated footage from the unaired pilot, featuring an entirely different cast save Spock. Demand for tickets has been strong enough that more screenings have been added for November 15. Check out this list to see if it's showing in your area. (If you're Canadian, look here.)
Of course, you may have mixed emotions about the extensive "restoration" work that has been done on the series, which includes the addition of new special effects. StarTrek.com has an in-depth interview with three of the technicians who worked on the product that may assuage your fears. Or not: hey, the more info you have, the better choice you can make.
Read More