Star Trek Season One HD Set Hits Shelves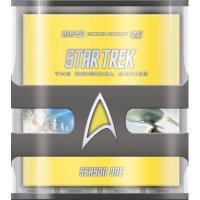 Star Trek fans who, against all odds, have yet to pick up the complete original series in any of its previous video or DVD incarnations have something to ask Santa for this Christmas: the Star Trek Complete First Season High-Dev Collector's Set is now on shelves.
The new set is a combination HD-DVD and Standard DVD disc set, which is good news for those of us who don't want to lock into a particular player format before the Blu-Ray vs. HD-DVD war has found a clear winner.
In addition to the 29 episodes of the first season, the set includes "The Birth of a Timeless Legacy…" a 24 minute feature that discusses the two pilot episodes and the development of the cast and crew. Additionally, "To Boldly Go" highlights the best episodes of Season One, and "Sci-Fi Visionaries" covers the great sci-fi writers who threw their scripts on the Star Trek slushpile. Plus a load of interviews interviews with Shatner and Nimoy.
Unfortunately, there's still no audio commentary on the episodes in the set. That's probably the deal breaker for me with this set: at $199.95 (discounted on Amazon down to $135), I'm not going to replace DVDs I already own unless there's a truly compelling extra on the disc. And the upgraded special effect just don't cut it.
Star Trek The Original Series – The Complete First Season (Combo HD DVD and Standard DVD) [HD DVD] (1966) [Amazon.com]
Read More