Spankin' New Godzilla Unleashed Video Game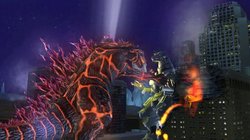 Atari may be in its death throes, but it's still releasing games. And while Godzilla Unleashed has its problems with camera angles, there's no denying it's full of visceral fun. With well over 20 movie monsters to unlock and use, and with a decent story mode that lets you destroy some of the world's great cities (I took down the Space Needle in a volcano-filled Seattle) while fighting, I think any monster fan would enjoy an hour or so with the game. In the story mode, your goal is to dominate the planet. To help you, the landscape is filled with giant crystals. Grab about four of them and your monster will glow and hit Critical Mass. Here, your beast has powerful abilities which almost no other monster can destroy. I tried my best to dominate the earth with Fire Rodan, who's very fast while in the air and can grab the mightiest of monsters with his claws and throw him into, say, the Empire State Building.
If you don't like the Story Mode, you can jump in to Brawl Mode and juus battle it out, mano a mano, er, monster a monster with a pal. The game was specifically designed with the Nintendo Wii in mind. But I played mine on the old PlayStation 2, and had a fire-breathing blast.
Read More