Spankin' New Cloverfield Trailer!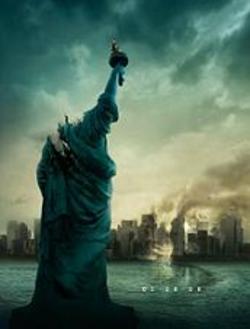 Apple has a new Cloverfield trailer up on its site, and it's full of fast, savvy edits that make me want to see the movie. But the most important scene it the movie is the site of the beheaded Statue of Liberty as it rolls sadly down an avenue in (probably downtown) Manhattan. The very idea of the familiar gift from France itself being targeted by man or monster conveys multiple horrible thoughts full of terror: of a terrorist attack, or a monster gone wild, of the very essential symbol of our democracy rent asunder.
Then, there is supreme chaos of the kind that can only occur in Manhattan, and then, the equally monstrous rampaging military, in what seems to be martial law. Exactly why this happens is not known, or shown, except for some horrible growling. All I can say is this indeed is the way to make an intriguing trailer. You, as I did, may want to pause the player frequently. Matt Reeves has had his editor do multiple quick cuts, and you'll see a lot more if you check out the still video. Nicely done. Can't wait to see it on January 18, 2008.
Read More