Second Helping of Roth's "Thanksgiving"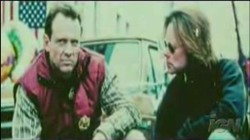 With all the press Eli Roth gets monthly, like last week's rant about movie downloading, the irony is that his best horror work might just be the fake trailer Thanksgiving that was featured in the mess that was Grindhouse. With those three minutes, Roth captured the essence of grind house movies while providing a hilarious story and endless voice over quotes. Although Trailer Trash, his movie composed of movie trailers, might be contrived, we'll get a second helping of Thanksgiving, Roth said in his My Space Blog.
But there will also be Thanksgiving leftovers for you to snatch up. Roth has also partnered with NECA Toys to create Thanksgiving merchandise such as t-shirts and posters for sale at Hot Topic stores. Roth also teases that there might be action figures and other trimmings on the way.
Read More