Sean Connery's Son Gets Some Horror Action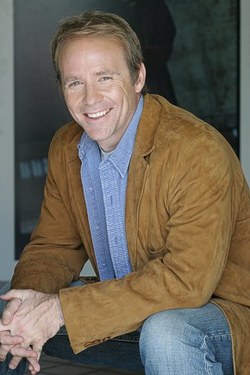 Jason Connery, Sean's son, has acted in more than 30 films, including horror flicks such as the horrible Wishmaster 3 Beyond the Gates of Hell. But a few years ago, he made it know that he wanted to direct. First comes Pandemic, which is supposed to be out this year, according to IMDB (though I can't find much about it online. Straight to video, perhaps?).
But today comes news that, according to The Hollywood Reporter, Connery is "directing the (as-yet-untitled) tale of an
elite group of soldiers (Cuba Gooding, Taryn Manning, Jason London, Franky G,
Zack Ward, Stephanie Jacobson and Brandon Fobbs) sent on a covert
mission by a government agent (Valerie Cruz) to retrieve a missing
scientist (Ron Perlman) from an underground lab.
"They encounter a priest (Henry Rollins) who tells them that an 'ancient
evil' has been released, causing their greatest fears to come to
life. Their former leader (Winstone) plays a pivotal role in
uncovering what is actually taking place at the facility. Bill
Moseley and Sarah Ann Morris play members of the compromised
research team."
First off, any movie that features old-time punk Henry Rollins is one that I'll have to see. Can you imagine Rollins leering and growling the words 'ancient evil'? Perfect! Just thinking about it gives me shivers of hope. And while Gooding is best known for his feel-good films and for comedy, I feel that casting him in a horror-based thriller will allow him to branch out. Who knows? Maybe horror and Gooding will be a match made in hell, the good kind.
Read More