Sci-Five: 5 Films about SF Authors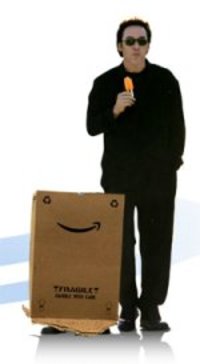 Today is the premiere of Martian Child. Or as I call it K-PAX for kids.
The dramedy features John Cusack as a Science-Fiction author. And here's what bothers me — there are Horror movies where the main character is a Horror author, there are Romantic movies following a Romance author. But there aren't any Sci Fi Films about Sci Fi authors.
But I did come up with 5 Non Sci-Fi Films about Science-Fiction authors…
5. Mother (1996)
Albert Brooks plays a sci-fi novelist who explores how his family issues are shaping his writing. He moves back in with his Mother and realizes that she is the inspiration for the character of the giant, negative head.
4. Naked Lunch (1991)
David Cronenberg's pseudo-adaptation of the book, it really tells the story of William Burroughs. People seem to love it or hate it.
3. Back to the Future (1985)
Spoiler Alert — when Marty returns to 1985, having altered the events of 1955, his father is a best-selling science-fiction novelist. His novel A Match Made in Space had just been published at the end of the first film. An early version of the Back to the Future II script revealed that the book became a classic and was made into a TV Mini-Series.
2. The Gospel According to Phillip K. Dick (1998)
A lot of people have told me that this documentary about the Blade Runner writer isn't very good. I've never seen it. But I am looking forward to seeing Paul Giamatti as Dick in The Owl in Daylight — and let's not forget Bill Pullman playing a would-be PKD (named William K. Frick) in the biopic Your Name Here.
1. The Whole Wide World (1996)
It's a delightful casting choice: Vincent D'Onofrio as Robert E. Howard. The guy really chews the scenery. And it works.
Read More