"Sci-Fi Films Make Up Most Quoted Genre"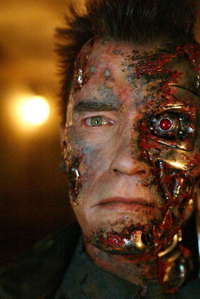 It appears that the endless, bovine repetition of stupid catch phrases — while not exclusive to sci-fi fans — is, at least, bottom heavy with them.
According to a recent survey, the top ten most quoted movie lines in film include several sci-fi quotes, including three of the top four:
1) "I'll be back." — Arnold Schwarzennegger, The Terminator
3) "Beam me up, Scotty." — William Shatner in Star Trek (supposedly)
4) "May the Force Be With You." — Alec Guinness, Star Wars.
At first, it seems like sci-fi is a pretty widely quoted genre. But consider a few things. First of all, The Terminator line is something people quote accidentally when excusing themselves to go to the toilet. The Star Trek line is never said in the television show or film. And the kind of person who says, "May The Force Be With You" when you sneeze is the sort of person who should have his head beaten in with a shovel.
Finally, let's face facts: sci-fi fans are the most offensive example of people who will endlessly recite a film's catch phrase over and over and over again until you just want to jam screwdrivers in your ear. We probably shouldn't be proud of that.
I'll Be Back Most Common Line [BBC]
Read More