Scary Monkey Injures 25 In Rampage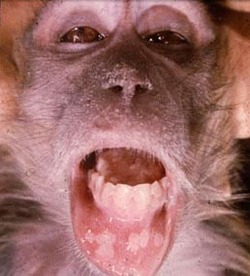 A couple of weeks ago, I reported to you about monkeys in India that killed a government official. Well, they're at it again in the land of the Monkey God. Today, Reuters is telling us, 25 residents were bitten, scratched and mauled by a lone monkey which went on the rampage in the capital last weekend.

"The monkey reportedly tried to snatch several infants before being beaten back by residents armed with sticks and metal bars. 'Primal Invasion' read the headline in the Hindustan Times. 'I thought it was a man at first,' Manohar, one of the residents, was quoted as saying in the Times of India.
"'It got hold of my son's leg and was carrying him away but I managed to snatch him back.'" Since monkeys are seen as religious entities in India, they aren't killed by residents, even when they attack. Authorities also theorize that, with New Delhi's population at 14 million and growing, the monkeys are being forced out of their forests homes due to construction. Maybe they're angry. Maybe they're just freaked out with nowhere to go. But when a monkey tries to hurt two dozen people, that's horror, folks, no matter how you cut it. So where's the Bollywood horror musical devoted to the attack of the predatory primates?
Read More