Scared Jessica Alba In New Pix From The Eye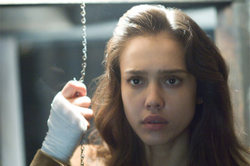 Bloody Disgusting just posted this picture of a frightened Jessica Alba in the remake of The Eye, which hits theaters in February. If you recall, the Hong Kong original, Jian Gui, which means 'seeing ghosts,' featured "a woman who receives an eye transplant that allows her to see into the supernatural world." I wonder what Jessica sees. Maybe it's Parker Posey, who also stars in the film.
Interestingly, the film has two directors, David Moreau and Xaiver Palud. That could be a bad sign. Yet if the film can stay as spookishly stylish and shiveringly moody as the original, this just may be a ghost story worth checking out. Oh, yeh, the teaser trailer does give me hope.
Read More