Romero's "Knightriders" Return to DVD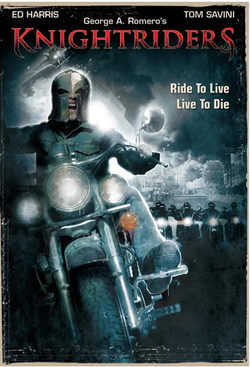 George Romero's Knightriders isn't one of the director's better-known films, but there's no question that it's one of his very best. It was his follow-up to Dawn of the Dead, which gave Romero the opportunity to make any movie he wanted to.
It stars Ed Harris (in his first starring role) and several Romero regulars, like Tom Savini and Ken Foree (even Stephen King puts in a small cameo), all of them doing stellar work for what was obviously a passion project for everyone involved.
Even though it's been available on DVD since 2000, Anchor Bay Entertainment has seen fit to reissue Knightriders on December 18 with new cover art, though I'm told it's basically the same disc as the previous edition (which had a commentary with Romero and Savini). If you don't already have this one in your collection, this is the perfect opportunity to pick up this wonderful film for a new low price ($14.98). And you absolutely should.
Knightriders is easily Romero's most personal film, all about
following your own voice and maintaing your independence in the face of
adversity. More than anything else he's done, it embodies Romero's
cinematic vision and remains one of the all-time great American
independent films. It wasn't a big hit upon its 1981 theatrical
release and hasn't found much of an audience outside of Romero fans,
but it's a great film in every respect and if slapping a new cover on
it is going to get people to see it, then I'm all for that.
Read More