Ridley Scott Has 'Stones'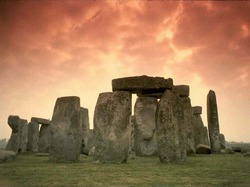 Ridley Scott pioneered cinematic Sci-Fi terror with Alien in 1979, and that was his last major effort into the horror genre. But it looks like he'll put his horror cap back on for Stones, a supernatural thriller focusing on the mysterious destruction of religious sites around the world, reports Variety.
After scripting Elysium, Script writer Matt Cirulnick came to the idea that modern marvels like Stonehenge and the pyramids were built for a unified purpose. I always knew there was something off about Stonehenge (although it's not as cool as Carhenge), as it turns out that Stonehenge is the key to the destruction in Stones.
Hopefully, Stones will be somewhat of a return to form for Ridley, as his recent work has mostly been over-hyped empty spectacles. The film will resume production after the writer's strike.
Read More