'Resident Evil: Extinction' DVD Specs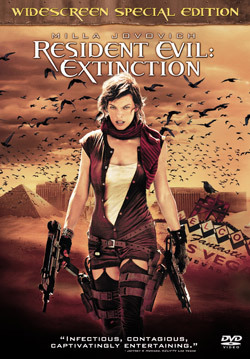 If you are like me, you tend to pass up a lot of horror films in theaters. Generally, I can't seem to get excited enough about the umpteenth remake or sub-par B-movie to brave the crowds at the ticket lines and the kids texting on their cell phones during the movie. Luckily, DVD allows me to re-create the theater experience on my own time. Resident Evil: Extinction falls into that category.
Sony released the specs for the DVD, as well as the awful cover art. Streeting on January 1 for $28.95, the DVD will offer the expected anamorphic widescreen and Dolby Digital 5.1 sound. As far as special features go, we'll get:
• Filmmakers' audio commentary
• Deleted scenes
• Making-of featurettes: Alice Vision: Preproduction, The Big Bang: Shooting Resident Evil: Extinction, Bigger, Faster, Stronger: The Undead Evolve and Vegas Visual Effects: Miniatures
• Sneak Peek at the CGI feature Resident Evil: Degeneration
The movie will also be released on Blu-ray, with the Under the Umbrella: Picture-in-Picture Experience feature that plays the special features during the film. Sony will also release a Blu-ray box set of the three RE movies. The Blu-ray disc will run 38.95, while the Blu-ray box will set you back $89.95.
Read More