Remembering Alexander Godunov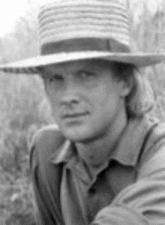 Alexander Godunov, who would have turned 58 today, was a stunningly-acrobatic Russian ballet dancer who caused an international uproar when he defected from the Soviet Union in 1979, one that pitted President Jimmy Carter against Soviet Premier Leonid Brezhnev. While Godunov got to stay in the U.S. and dance with the American Ballet Theater, his wife returned to the U.S.S.R. The two eventually divorced.
In Hollywood, Godunov helped to pave the way for other ballet dancers dabbling in acting. Godunov, who became involved in a relationship with the beautiful Jacqueline Bisset, starred in nine movies, everything from the well-reviewed Witness with Harrison Ford, Die Hard with Bruce Willis, The Money Pit with Tom Hanks to the much lesser Waxwork II.
Said The New York Times,
"Mr. Godunov's first movie role was in "Witness," with Harrison Ford
and
Kelly McGillis in 1985. In a review in The New York Times, Vincent
Canby described Mr. Godunov, who played an Amish farmer, as the film's
'most riveting presence.' 'Mr. Godunov displays a kind of quiet, amused
self-assurance that effectively steals every scene he's in,' Mr. Canby
wrote."
After Die Hard, Godunov felt he was somewhat stereotyped.
Witness this quote: "Producers said things like, 'You will play the guy
who comes in with a
long coat and machine gun and kills everybody in the room. And use that
same expression on your face you used in 'Die Hard'." He was a
solitary, sometimes dark man, who, unfortunately, died too early in
1995 of acute alcohol syndrome. But his legacy remains strong today,
his birthday, on film and in documentaries where he dances like a graceful pirate.
Read More