'Planet of the Apes': The Ultimate Fan Quiz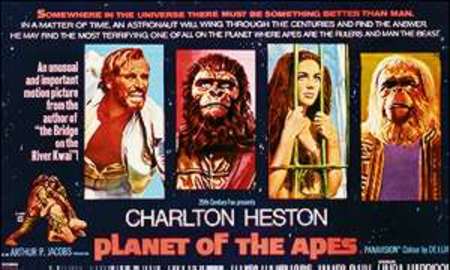 The latest Ultimate fan quiz will cover not one, but five science-fiction films, loaded with plot-holes, blunt social commentary, and MEGO action figures.
Planet of the Apes was more than just a powerful social commentary, it was a successful multi-media franchise.
This quiz will include the first five films in the series. (No questions about the TV show, the Saturday morning cartoon or the dreadful Tim Burton re-imagining.) But there are a few extra questions about behind-the-scenes trivia and Planet of the Apes' extensive cultural influence.
There are some tough questions, but we're certain you hardcore fans will come through. (And remember, we can't give a prize to Google.com )
The first person to correctly answer ALL questions by December 1, 2007 will win The Fly- Two Disc Collector's Edition DVDs.
Post your answers in the comments section and be sure to include your name and email address. The Sci Fi Scanner staff will contact the lucky winners for additional mailing information. (note: it may take up to 6 weeks for the winner to receive the DVD prize.)
The winners will be announced in the comments section of this quiz post on or near December 2nd.
Well, enough of my yakkin'. The Ultimate Fan Quiz is upon you…Now!
1. In 1966, Edward G. Robinson completed a make-up and screen test as Dr. Zaius. Who played Cornelius?
2. What year does the first Planet of the Apes film take place?
3. On TV's The Simpsons, actor Troy McClure stars in a musical version of Planet of the Apes. What is it called?
4. Which Planet of the Apes sequel was ranked #18 on Entertainment Weekly's list of the 25 Worst Sequels Ever Made?
5. In Escape from the Planet of the Apes Dr. Otto Hasselin uses two metaphors to understand the ape-o-nauts' time travel. What are they?
6. Charlton Heston agreed to appear in Beneath the Planet of the Apes under two conditions — what were they?
7. The MPAA assigned a "G" rating to all of the Planet of the Apes films but one. Which was it, and what was it rated?
8. Modern audiences might find unintentional comedy in Conquest of the Planet of the Apes when a bit role is filled by a 1970's sitcom actor — who is it?
9. In Escape from the Planet of the Apes, Cornelius and Zira provide an oral history of the Apes' rise to power. What is the name of the first gorilla-slave to say "no" to his master?
10. In Beneath the Planet of the Apes, what letters appear on the side of the mutants' Doomsday bomb?
Read More