Pirates Of The Caribbean/Haunted Mansion Rides Get Scary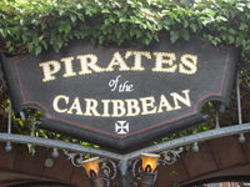 So, if you've gone to Disneyland, you've probably enjoyed the Pirates of the Caribbean and Haunted Mansion rides, especially the end of the latter when those 3-D holographic ghosts appear. But something dark's going on in the land of the Dis-Man. According to Local6.com, the ride was closed, and the reason is, well, creepy.
"Disneyland workers were recently forced to close the Pirates of the
Caribbean attraction after a ride security camera caught a woman
apparently dumping human remains, in what may be a growing trend. Workers at the Anaheim theme park spotted the woman sprinkling an
unidentified substance into the water on the Pirates ride. Anaheim
police were notified of the incident.
"The woman told Disney park
workers that the substance she dumped was baby powder, but officials
are investigating the possibility that she sprinkled human ashes, Local
6 reported.Some Disney watchers said park-goers tell them that
people smuggling in the cremated remains of their loved ones and then
sprinkling ashes on rides has been going on for a while.They said it started at the Haunted Mansion, but now the Pirates of the Caribbean ride is growing in popularity. Al
Lutz, who runs Miceage.com, told KABC that it is not unusual for people
to scatter a loved one's remains at the happiest place on earth."
I guess it's time to rewrite the old couplet. Now it's "Ashes to ashes, dust to dust; you'll go to Disneyland like the rest of us." It's an ashen world, after all. Sing it with me.
Read More