Pakistani Horrors – For Real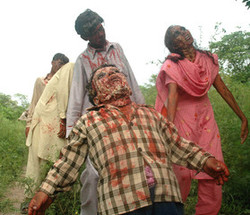 With all of the political upheaval going on in Pakistan right now, one wouldn't think it would be a good time to release a new movie there – and you would be right. All the major studio movies have abandoned their release schedules and theaters are currently showing older pictures like King Kong and Mission: Impossible III due to the lack of new product. But one movie is still going through with its early December release plans and it could wind up being a historic release for more reasons than one.
The film is Zibakhana – Hell's Ground (which has shown at various genre festivals in the U.S.) and it's distinctive not only for being one of the few new films playing in Pakistan, but also for being Pakistan's first modern horror film. Produced by the great Mondo Macabro DVD label, there's nothing especially original about it – it's pretty much The Texas Chainsaw Massacre in Pakistan – but the fact that the movie is Pakistani makes it all the more special. Hell's Ground director Omar Khan tells Variety's Kaiju Shakedown blog of some of the real-life horrors going on in Pakistan right now (risking arrest just by doing so) and nothing in Hell's Ground is as scary.
If Hell's Ground does indeed make it to theaters next month, it stands an excellent chance of succeeding due to lack of competition and the desire of Pakistanis to see local product on the big screen. On the other hand, when government crackdowns start to take place, it's always the arts (horror movies, especially) that get cracked down on first. Here's hoping that Hell's Ground's release is both successful and incident free – and that modern horror is allowed to flourish in Pakistan. Good luck, Omar!
Here's the trailer to Hell's Ground:
Read More