Our Exclusive The Mist Coverage Begins!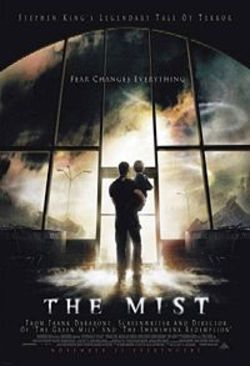 Throughout Sunday afternoon, The Mist enveloped me. But it didn't kill me. See, I had the chance to interview three-time Oscar-nominated director Frank Darabont
along with the cast of The Mist. Because the Green Mile director's
horror film (based on Stephen King's novella) may well be the best
horror film of the year, we'll have a good deal of coverage regarding
the movie leading up to the premiere in theaters on November 21. I know
that our ace Todd Ravenface is doing one of his terrific video feature/interviews on the movie.
And yesterday I had a one-on-one interview with Darabont himself, who's affable and intense at once: look
for that interview later this week. This afternoon, I'm heading over to the
Regency Hotel for a press conference with both Stephen King and Frank
Darabont. (So many questions, so little time!) Since the two are horror mavens of the highest order (and
have been pals for years), I can't wait to watch them play off each
other. (I just hope King doesn't gloat about the Red Sox too much.) Stay tuned!
Read More