On Set: Jet Li In The Mummy III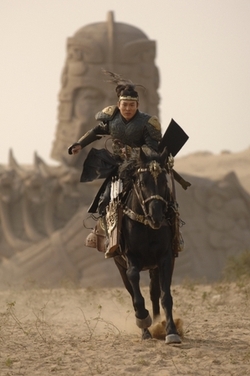 I have to hand it to Mummy III director Rob Cohen: whether I think the sequel's a good idea on not, the guy's ultra busy with filming … and he still has time to blog. The team has been shooting in China and recently filmed scenes with Jet Li (left, in a publicity still).
Says Cohen in his most recent post, "We have made the move to China north of Beijing in a desert valley
perfect for my climactic scene. Hundreds of our Chinese art department
craftsmen have labored for months to prepare the site for this day and
the other sixteen like it that we will spend shooting out here,
commuting an hour and a half each way on bumpy, dirt roads congested
with donkey-pulled carts taking in the corn harvest. Sometimes, the
cart is so loaded, it takes up the entire country road and we have to
pull onto the desert floor to let them pass.
"I have 2000 people (200 Americans, French Canadians, and Brits, 100
from Hong Kong, 1700 from Mainland China) working on the film now with
1500 here with me and 500 technicians in Shanghai with Vic Armstrong
who is directing the Action Unit at the Shanghai Studio. There both
teams will ultimately film a wild chase with the O'Connell's in a
fire-works truck on the tail of The Emperor Mummy, his Chariot racing
drawn by four bronze horses right through the Bund Area of Shanghai,
Chinese New Year, 1946. Sparks will fly, indeed." 2000 people? With all that effort, maybe The Mummy: Tomb of the Dragon Emperor will be indeed a worthwhile movie!
Read More