New Terminator Looks Gross!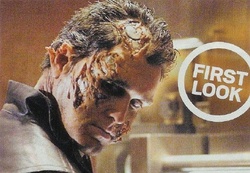 Cinematical had one of the first looks at the new Terminator, Owain Yeoman from The Sarah Connor Chronicles, a Fox drama which will debut early next year. While I heard on NPR's Morning Edition that the show's premiere may be seriously delayed by the writer's strike, the image is gross enough so that it's perfect for Monsterfest now (however postponed the show may be).
Says Cinematical, "The series picks up, time-wise, after Terminator 2: Judgment Day, while Sarah Connor (played by the very lovely Lena Headey, 300)
and her son John (Thomas Dekker) are on the run from the authorities
and, well, evil robots. Eventually, they decide to stop running and
confront their problems head-on. To make things interesting, John meets
a girl at school (Summer Glau) who turns out to be the new Terminator
sent to protect him and Sarah." If this spinoff of the movie franchise is gross enough and the Terminators evil and monstrous enough, it may well revive the film aspect: After all, there are three more Terminator films planned over the coming decade.
Read More