New "Mother of Tears" Trailer This Thanksgiving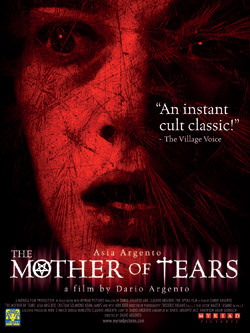 This Thursday (Nov. 22), when you're sitting down to carve the turkey and load up on all the trimmings, you'll definitely have something to be thankful for when your turn to get sentimental comes around the table. Fangoria will debut a brand new, unrated U.S. trailer for Dario Argento's Mother of Tears at 12:01 a.m.
Like many of you, I've been following Mother of Tears since it's announcement in hopes that it will mark a return to the Argento we all know and love (Suspiria, Deep Red). From the sounds of a few festival reviews, chances are it could be. The story is set in Rome and follows Sarah, a young art student who unknowingly opens an ancient urn that unleashes the demonic power of the Mother of Tears. Those urns are always trouble. Sarah's co-worker is murdered and she starts down a horrifying path that reveals the deep secrets of the Mother of Tears.
The film opens in U.S. theaters in February 2008 and stars Asia Argento and co-stars Udo Kier.
Read More