"Mother of Tears" trailer leaked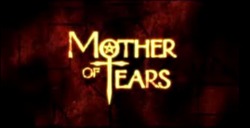 Thanks to the internet, nothing stays under wraps for very long. Yesterday, we reported that Fangoria would debut the new Mother of Tears trailer at stroke of midnight tonight. Of course, this is an internet debut, so the new trailer has already been leaked and posted on Bloody-Disgusting.com thanks to an anonymous e-mail.
Unfortunately, the video quality isn't too good. While I'm sure that Dario Argento's latest is dark by nature, the trailer on B-D is so dark that it's hard to tell what's going on in parts. What you do get from the trailer, however, is vintage Argento — a girl confused and in trouble, a supernatural power, and a black-gloved hand brandishing a knife. Hopefully when the trailer his Fangoria later tonight, the video will be of better quality.
Read More