Mel Brooks' Young Frankenstein Gets Trashed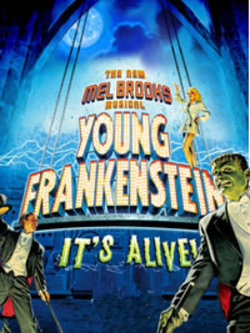 I woke up early this morning to check out the New York Times, the paper than can kill a Broadway show with one bad review. Therefore, I was excited to check out theater critic Ben Brantley's review of the theatrical debut of Mel Brooks' Young Frankenstein play.
Folks, it's not pretty. Overall, it's a scary monster of a review. Says Brantley, "No, it is not nearly as good as The Producers, Mr. Brooks' previous
Broadway musical. No, it is not as much fun as the 1974 Mel Brooks
movie, also called Young Frankenstein; on which it is based. No, it
does not provide $450 worth of pleasure (that being its record-setting
price for 'premier seating')."
While some of the actors get kudos, overall Brooks is going to have an ulcer after reading it. Unlike movie or music reviews, the life of a Broadway play depends on a New York Times positive review to get folks to fill the seats. And Brooks' theater is huge: over 1,800 seats. And Brooks budget was huge for theater, too: $16 million. Brantley said he enjoyed only two of the 20 musical numbers and laughed only three times. He ends the review with "Young Frankenstein has never stopped screeching at you. This means
that: (a) it has soon worn out its voice, and (b) it leaves you with a
monster-size headache." Frankenstein's monster is dying: this morning, I feel sorry for Mel.
Read More