Marilyn Manson's Masks Of Human Skin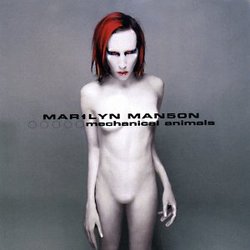 I knew that Marilyn Manson was demented, but I thought that was just part of his stage act. Boy, was I wrong. Sky News is reporting that Manson has purchased masks made of human skin (an Ed Gein wannabee?) and a child's skeleton. Not only that, he's been accused of using the band's money to buy them, and not his personal stash of cash.
Says Sky, "Keyboardist Stephen 'Pogo' Bier filed a breach of contract lawsuit in
August in which he accused Manson of taking cash belonging to the rest
of the band to pay for the "sick and disturbing" purchases."
"He is also accused of using band funds to pay for a collection of Nazi memorabilia. Swastika wall tiles with matching custom rugs and Nazi government coat
hangers owned by Adolf Hitler are allegedly on display in Manson's
Californian mansion, according to legal papers."
Manson says he hasn't treated anyone unfairly. Bier says he wants his fair share. Me, I want a tour of the mansion. Um, I'll skip the Nazi stuff, thanks.
Read More