Macabre Memory Lane: The Munsters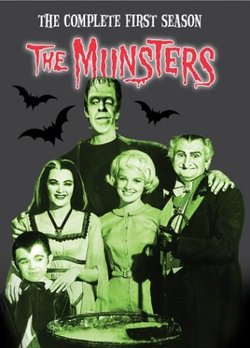 All that Wayans talk about The Munsters made me want to check out all the Munster memories I could muster. I thought you might like to share in the wealth of nostalgia I came upon. Enjoy!
Munsters Intro: I always enjoy this video, especially Herman coming out from under the stairs. And I can' t think of a catchier opening theme.
Collectibles: You can buy Eddie's Werewolf doll (signed by Butch Patrick) for $1,400. Patrick will also do a special personal endorsement for you on a photo for $30.
Dragula: Grandpa takes to the drag strip and wants to win. Eddie can't take the tension so he bites his nails, the kind you hammer.

Howard Stern Spoof — Remember Howard Stern's old TV show? Here, he's Herman, Out of the Closet.
Herman Munster Talking Doll — There was nothing cooler than this Mattel toy for a kid back in 1965. Herman had a little record in his head and spewed sayings when you pulled a string with a ring.
Lily Loves Herman — Here's a touching video done by a fan that shows how much the two monsters loved each other. Awww, and you gotta love the background music, Kiss Me by Sixpence None The Richer.
Read More