Life-Sized Gigantor To Tower Over Kobe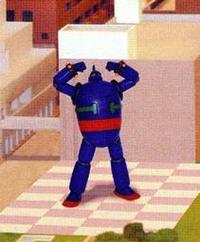 As giant statues go, the Statue of Liberty is alright: an emerald woman with the face of a transvestite who scowls upon the trashy refuse of inferior civilizations as they enter the land of milk, Budweiser and honey.
But give me a gigantic blue robot flexing his muscles in triumph any day. I must move to Kobe, Japan, which will soon be the home of a life-sized Gigantor statue.
Specifically, it will be the Iron-28, which was the first "giant" robot series to become a staple in Japanese pop culture. The 18 meter high, 70 ton Ironman-28 will carry the price tag of 135 million yen. The project is expected to be completed in the spring of 2008.
The statue will serve as a double memorial, marking both the birthplace of creator Mitsuteru Yokoyama, who passed away in 2004 in an apartment fire, as well as celebrate the revitilization of the area, which was devastated in the 1995 Kobe earthquake.
I can see that being a realtor draw to the neighborhood: what self-respecting otaku wouldn't want a penthouse view of Flexing Gigantor from his apartment balcony?
Read More