Knightriders 2: Why Bother?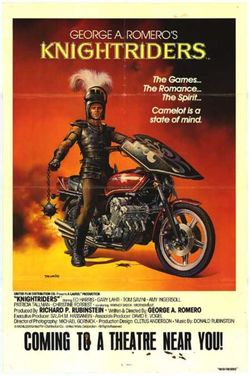 As you read here yesterday, George A. Romero's excellent Knightriders is being re-issued on DVD next month. One of Romero's best, the film is a wonderful ode to independence that deserves a much larger audience.
Now, Moviehole is reporting that Taurus Entertainment, the company behind the "sequels" (a very loose term) to such Romero films as Day of the Dead 2 – Contagium and Creepshow 3, is now planning a new insult to the Romero legend with Knightriders 2. Jeez, if it isn't all the pointless remakes to Romero films, it's all the pointless sequels. No wonder the guy hates Hollywood!
All that's known about it at this point is that it has a budget in
the "$1-3 million range" (translation: They're still looking for
financing), but there's no director or script or casting. And I hope
there never will be, although the previous Taurus films all came from
the film making team of Ava Clavell and James Glenn Dudelson, who I suspect are probably behind this debacle-to-be, too. What's next from them – Two More Evil Eyes? The Darker Half? Please stop, Taurus people. Please.
Hey, here's an idea – instead of making a sequel, why not re-release
the original in theaters? It wasn't a hit the first time out, and
since Ed Harris is a big star now, this would be a perfect opportunity
to show audiences what a great film it is plus show how Romero is more
than just a horror director. And you guys would earn a lot of good
will. Think it over.
Read More