King Kong vs. Godzilla vs. Thanksgiving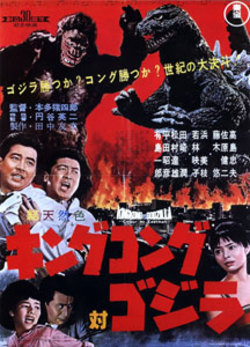 As a kid, I looked forward to Thanksgiving with baited breath not only for the good food and the family fun, but also for the return of a pair of old friends: King Kong and Godzilla.
If you lived in the NY/NJ/CT area, you had the pleasure of seeing WOR-TV's annual "Holiday Film Festival", which consisted of King Kong, Son Of Kong and Mighty Joe Young (always an unofficial Kong movie) on Thanksgiving day, with a Godzilla triple feature the following day.
These giant monster classics were constant favorites on local TV (back when movies filled up a large chunk of the programming for most stations), and giant monster movies were always popular choices for such afternoon movie shows as WOR's "Million Dollar Movie" and WABC's "4:30 Movie". Who cares if they were cut and looked terrible, this was the only way you could see them!
The WOR Kong/Godzilla marathons were especially fun because you could watch some of Kong, eat your dinner and desert, go back to Son of Kong, go outside and play for a bit before it got dark and then catch the rest of Mighty Joe Young
and you already had a full day's of fun and monsters. The Godzilla
films on the day after were always a mish-mash of the later,
fun-but-sucky ones (Smog Monster, Cosmic Monster) with a showing of King Kong vs. Godzilla or King Kong Escapes
to make it all a truly righteous event. The Holiday Film Festival only
lasted for about 10 years (from 1976 to 1985), but they were my
formative years and reinforced my love of all things monsters for years
to come. Thanksgiving has been the same without them. (For a full
list of titles, check out this loving post from DVD Drive-In.)
It's a shame no one else has picked up this idea in the years since,
as I'm sure there's still an audience that would love to eat turkey and
watch giant monsters. Methinks the AMC programming department should
take note of this post when putting together next year's Thanksgiving
programming. Get on it!
Read More