Journeyman Gets 2 Weeks Notice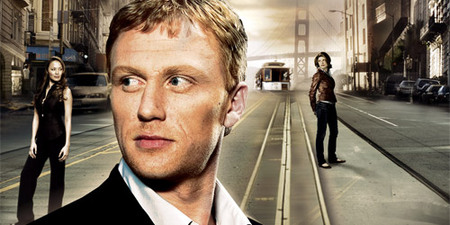 Bad news, Journeyman fans! Though NBC's quirky quasi-update of Quantum Leap has become the surprise sci-fi hit of the season, the current rumor is that bad ratings areas about to kill the show off.
According to Zap2It: the Nielsen numbers for Journeyman for the episodes airing on November 19th and 26th are critical. If the numbers don't improve substantially, the network will yank the show. Even more astonishingly, the source claims NBC won't even air the remaining episodes!
Journeyman fans might be able to discredit the rumor entirely from that last detail. It's hard to believe that NBC wouldn't air all the episodes it has produced for a show — even a clunker — during the WGA Strike. They don't have enough content to fill the waves for the next few months as it is.
Still, if true, it's depressing: many people think Journeyman is the most intriguing sci-fi show on the air right now. More over, it seems that a lot of people are watching it, but NBC is only interested in Nielsen ratings, and isn't taking into account fans who watch online or DVR viewers. Dear NBC: we're almost eight years into the 21st Century. Please update your antediluvian measurement of success.
Journeyman fans: the episode airing tonight may be your last chance to support the show. You may want to tune in live for this one.
NBC Gives Journeyman 2 Weeks Notice [Zap2It]
Read More