J.J. Abrams' Fringe: The New X-Files?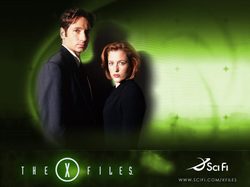 Well, it'll be on Fox TV, and it's got the 'unexplained phenomena' hook. It's even got a boy and girl team, and J.J. Abrams, who admits being influenced by The X-Files when conceiving Lost. So is Fringe, the new X-Files?
Kinda, but maybe not. Says The Hollywood Reporter, "Fringe centers on a young female FBI agent who, forced to
confront the spread of powerful and unexplained phenomena, must
work with an institutionalized scientist whose life's work might be
at the center of the coming storm.
"After a heated bidding, the sci-fi spec by Abrams, Kurtzman and
Orci landed at Fox last month with a big series commitment. Sources said the deal includes a budget for the pilot of
about $10 million, which is in the ballpark of Abrams' two-hour
pilot for ABC's Lost." That's a ton of money for a pilot, so Fox has big plans and hopes for the series. I wonder if there's a little of Hannibal in this 'institutionalized scientist.' Whatever the case, if Abrams is involved, you can expect a thrilling first episode — at the very least. The truth is out there, er, it will be.
Read More