Janice Dickenson: The Rock, And The Spiders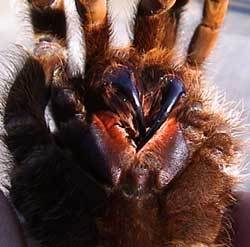 British TV reality shows are sometimes more gruesome than any horror movie we think up here in the U.S. Witness I'm A Celebrity, Get Me Out Of Here from a couple of nights ago. In this YouTube video, watch closely as original supermodel Janice Dickenson has to stick her head into a very small plastic, see-though box with a bunch of spiders in it. I mean, I don't care how much money or fame you give me. I'm not going to do that.
Meanwhile, on the Ellen Degeneres show, The Rock, who has an abiding fear of spiders, holds one so the audience can get some free tickets. All of this on-air spider stuff is modern day horror, and it skeeves me.
Read More