Is "There Will Be Blood" Horror?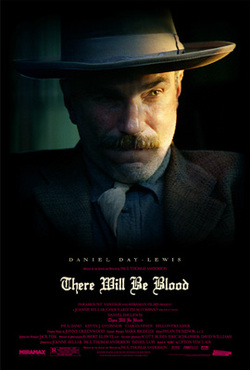 Movie history has a long, great tradition of human movie monsters, those who were completely flesh and blood but also total evil — Freddy Kruger; Jack Torrance; Hannibal Letcer. And now a new monster seems to be joining their ranks. His name? Daniel Plainview, as portrayed by Daniel Day Lewis in There Will Be Blood.
Paul Thomas Anderson's new film doesn't open until December 26, but is starting to screen in New York and L.A. The early word from those screenings is one of tremendous respect for the film and for its lead performance by Lewis, which many believe will earn him an Oscar nomination. But more than that, most critics are commenting on the outright evil nature of Lewis' character, an early 20th century oilman who earns his fortune at the expense of all those who surround him. While not technically a horror film (although Anderson is the son of Cleveland TV horror host Ernie Anderson, a.k.a. Ghoulardi), Blood is being noted for its dark and oppressive tone and is getting comparisons to The Shining as a horrific mood piece. And they're absolutely right.
I had the pleasure of seeing Blood at a special screening at this year's Fantastic Fest and was absolutely blown away by it; this is unquestionably Anderson's best film to date and a great film all around. And even Anderson, who attended the Fantastic Fest screening, noted the film's underlying horror elements, calling Plainview a monster in the classic sense and using Dracula as one of the character's inspirations.
What Anderson and Lewis do here is remind you of how evil can manifest itself in a person's one-sided greed and ambition until it takes you over completely and there's nothing left of your humanity. It's one thing to be outright wicked and murderous, but Plainview acts in a manner that has him put a phony smile for everyone he meets but sees them and the rest of the world with complete and utter contempt. The film is one of the best depictions of outright evil I've seen in a movie in a long, long time and is as chilling as any great horror film because of it. It won't surprise me to see Daniel Plainview become one of the next big horror icons. Tell us if you agree when the film comes out next month.
Read More