Is Blade Runner Coming to a Theater New You?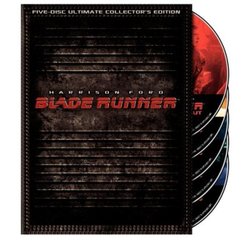 Are movies better on your TV set than they are in a theater? That's the way I would have phrased the question being debated over on the Shootout blog by Peters Guber and Bart, and when you put it that way I don't see how you can possibly answer yes.
Movies are made to be seen on a larger-than-life screen, in a setting where we are expected to sit quietly and straight, where we have to make time for the experience and not squeeze it into those minutes when we're not doing something else, where we are powerless to adjust, replay or pause the movie while we go to the bathroom or check the game scores.
God knows we don't always have the choice of theater versus living room, especially for movies that didn't just come out this week. But when the chance comes, it's especially rewarding to see in a theater a film that wants to take us into alternate reality. That's why I'm excited that Blade Runner is being re-released to theaters in a limited run to help spark attention for the five-disk special edition DVD that will be released on December 18. I don't care how big your plasma screen is, or how earth-rumbling your home theater sound is, or how elaborate your viewing room is: bottom line, this is a movie that you can't really say you've properly experienced until you've seen it in a theater.
Here's a current list from the official Warner Brothers Blade Runner website of cities in which it will be showing:
11/9/07 – Boston, Vancouver
11/16/07 – Detroit
11/18/07 – Austin
11/30/07 – San Francisco, Dallas, San Diego, Minneapolis
12/7/07 – Denver, Philadelphia
12/25/07 – Boston
1/2/08 – Austin
1/4/08 – Nashville
1/18/08 – Durham, NC
2/1/08 – Columbus, OH
2/15/08 – San Francisco
2/29/08 – Sacramento, CA
You may be disappointed to see that it's not playing near you, but don't give up hope. Call your local moviehouse, especially if you have any independently owned or "arthouse" theaters. Email the critic at your local paper. Have your friends do the same. Tell them you want to see it. Believe me, they'll listen—the movie business is not so good these days that theaters won't want to program something that people are eager to see. Good luck!
Read More