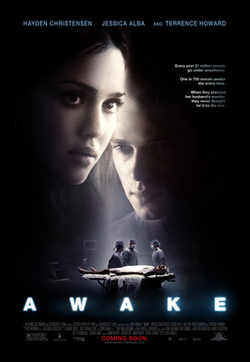 So if you're looking for horror on the big screen this weekend and have already seen The Mist (and if you haven't, shame on you), your options are basically Awake and… Awake. Hey, maybe that's not such a bad thing.
Awake has a great concept for a horror movie: A man undergoes surgery, but experiences anesthetic awareness (his body is asleep but his mind is not) during the surgery, and finds out that his doctors don't exactly have his health at heart. There's supposed to be a bit of a mystery involved, too, but I still can't get past the whole anesthetic awareness part; that would freak me the heck out, and if done right, Awake could be a nice little surprise.
But it's looking like several things are working against Awake: It's not being screened for critics (although a friend of mine who saw it liked it)and it's got a 78 minute running time, both of them never a good sign. And it's from the Weinsteins, also not a symbol of quality. Add to that it stars Jessica Alba, not my favorite actress, and the fact that they shot the movie two years ago, and I've got my doubts all of a sudden.
However, it also features Hayden Christensen and Terrence Howard, two actors I like, and even if the film isn't good, I feel like I'd have to see it just to see how they could screw this up. I'm going to wait for the reviews to hit first, but I can't help but deny that Awake has potential.
Read More