Inside The Otherworld: Silent Hill 5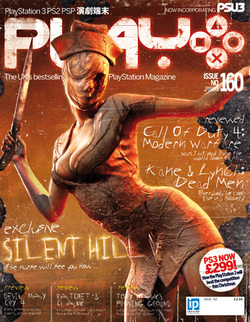 Today there's a ton of buzz on the horror video game community because the next Official PlayStation Magazine will have a five-page feature on Silent Hill 5. Play Magazine already has an exclusive, though (pictured). And yet, there's an intriguing seven-minute-plus interview with game footage from Gamevideos that's already on YouTube. In it, I found that the game series that's inspired by Stephen King's The Mist will, in its fifth iteration, harken back to many folks' fave SH game, Silent Hill 2.
I also found that the new game finds protagonist Alex Shepherd returning from fighting in a war to find that his brother is missing. Not only will Alex traverse to the spooky Otherworld, he'll have a the turmoil of creepy war post-traumatic torment to deal with. All in all, it truly looks like another Dante-like decent into Hell, one that will give you nightmares and one that you should play with the lights out. There's a lot of talk about improved combat in the Gamevideos interview. I really don't care about that: I want to hear all the details about the horrors, the evil nurses (pictured), the monsters and the story. Guess we'll have to wait for that OPM magazine to drop for more.
Read More