Inside Rob Zombie's Halloween DVD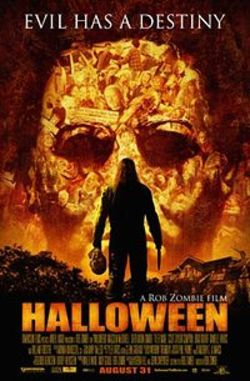 Bloody Disgusting had a few moments with Rob Zombie the other day. In the interview, Zombie talked about what you can expect from the two-disc Halloween DVD that hits stores in mid-December. Throughout the chat, he's asked about which deleted scenes he put back into the movie.
Zombie says, "Yeah there's tons of stuff that I deleted from the
movie, because you don't think it's good enough to be in there, or you
just don't need it. The one thing about unrated cut is that you don't
want to shove a bunch of crap in there, so people watching the unrated
cut say 'Wow this version is long and boring; it's longer, but I
didn't put in anything I didn't feel made the movie better. I didn't
just put in anything just to put it in there."
So what evil lurks in Halloween beyond what you've seen in the theater?

There are deleted scenes in the package, even an
alternative ending. They're just not cut back into the film. Is there a
documentary, one of those making-of features? "Sort of, we filmed an entire documentary, of which
we didn't have time to finish. But what we did was make a bunch of
smaller documentaries. Some day when we have time we'll cut the 2 hr
documentary, but on the DVD it's broken up: one about the actors, one
about Michael Myers, one about the mask… there's like 4 or 5 smaller
documentaries. One's just about the cinematography."
But wait. There's more: "I packed the two discs with as much as they would
accommodate. So there are all the deleted scenes, which there are quite
a bit, interviews with all the actors, the documentaries, casting
sessions, commentaries, blooper reels, basically everything we could
find." What do you think? Are you going to pick up the DVD version of the flick?

Read More