Indiana Jones and the Close Encounters of the Third Kind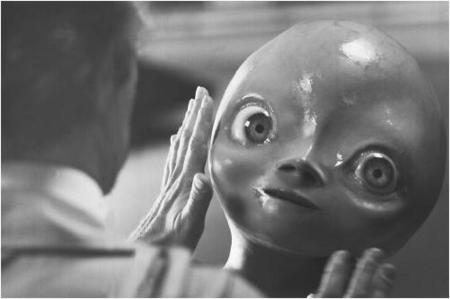 According to Alan Orange over at the Movie Web, "The one thing everybody knows about the new Indiana Jones adventure is that it deals with aliens. Of some kind."
Whuh? You'd think a writer in my line of work would know something like this, but apparently, I was not in on the industry-wide memo that Indiana Jones 4 is going to contain aliens.
But rumor has it that Dr. Jones stumbles into Area 51 at some point during the flick. And further rumor has it that Stephen Spielberg is using the opportunity to film a surprising cameo of some of his old leading men.
According to the Movie Web, the slimy grays from Close Encounter of the Third Kind have had their latex carcasses hauled out of storage, been sprayed down with some slimy gelatin and will be making some kind of appearance in Indiana Jones 4.
Indiana Jones versus. aliens sounds pretty stupid to me, and I don't much care for the overlong, overboring Close Encounters of the Third Kind either. Still, this may be just the weirdest rumor I've heard all week.
New Indiana Jones and the Kingdom of the Crystal Skull Cameo Rumor [Movieweb]
Read More