Incoming: The Godzilla Collection On DVD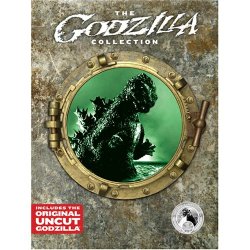 I guess it's time to start thinking about holiday gift giving (not that TV commercials and newspaper ads haven't been shoving it down our throats since Halloween). Along those lines, it looks like The Godzilla Collection will be a terrific DVD package for those who love Japanese monster movies.
Today, says the press release, "Classic Media will release The Godzilla
Collection — a deluxe DVD box set with 10 classic Godzilla movies.
This ultimate set is part of the Toho Master Collection and includes the
complete, un-cut original Japanese film, Gojira."
Want to know what's in the big box?
Gojira

Godzilla: King of the
Monsters (edited

US

version of
Gojira)

Godzilla Raids
Again
Mothra vs.
Godzilla
Ghidorah the
Three-Headed Monster
Invasion of
Astro-Monster
Godzilla vs. Monster
Zero
Godzilla's
Revenge
Plus, titles only available in this DVD Box
Set:

Monster-Size bonus
features include:
Audio commentaries
from Godzilla experts

Photo galleries


Exclusive Featurettes

o The Art of Suit
Acting
o Akira
Ifukube
o Eji
Tsuburaya
o Tomoyuki
Tanaka
o Ishiro
Honda
o Women of
Godzilla
The folks who are doing PR for the big G may well be sending over a copy. If so, I promise to post an in-depth review of $80 The Godzilla Collection. Although I know this right now: the best of the bunch is Godzilla: King of Monsters. You just can't beat Terry Morse's directing and Raymond 'Perry Mason' Burr's acting.
Read More