Horror Heaven in Santa Monica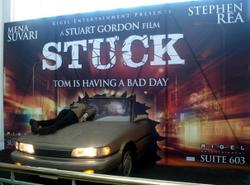 Did you know you that in Santa Monica, Calif., right now they're screening Diary of the Dead, Mother of Tears, [Rec], Timecrimes,
and countless other horror films from all over the world? Sounds cool,
doesn't it? Well, good luck getting in if you're not in the film
industry.
The American Film Market every November is a cornucopia of unknown, unreleased, and unearthed films from all over the world looking for distribution. A film like Diary of the Dead may have already been picked up for the U.S., but there are still plenty of territories that are for sale, and buyers the world over will be descending on the Loews Hotel to see about getting those rights for the right price. DVD companies, TV networks, PPV outlets and many others are all there looking to fill their pipelines with all of the hot horror titles that the market can hold, and to make it even more enticing, all of those movies are being screened non-stop at the theaters along the Santa Monica Promenade for an entire week. The hitch? You've got to be a buyer or in the film distribution game – it's not open to the public.
Having attended the AFM many times myself (my plans to go this year were kiboshed and I am not happy about it in the least), I can tell you that it is a little slice of heaven on Earth for movie lovers, since the screenings are always sparsely attended (no obnoxious talking!) and filmmakers and talent are usually in attendance, just walking around and making deals like everyone else. Best of all, endless numbers of films screen there in all genres, many of which will never again see the light of a projector in the U.S. I mean, where else are you going to see the likes of Dinocroc on the big screen?
Even though I'm not there, there has been some pretty solid genre press coverage of this year's show, especially from Todd Brown's Twitch and Shock Til You Drop, which has even come up with a photo gallery of the many posters and sales sheets being made available to buyers. The hands down best, however, is the life-size mock-up for Stuart Gordon's Stuck that adorns one of the floors of the Loews. I wish I could see that in my local movie theater!
So the next time you look at the shelves of you local video store and wonder, "Where do all these movies come from?", it's probably the AFM. Hey, they gotta come from someplace.
Read More