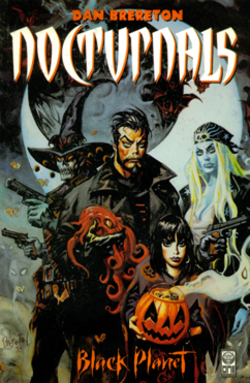 Horror comic books are having a resurgence, probably fueled by the general lust for super-hero movies. There's plenty of recent examples of page to screen success – Hellboy, Ghost Rider, 30 Days of Night – and there are more recently a big burst of comic books based on established horror movie properties, Leatherface has his own monthly.
There are weird lines of titles owned by, like, Gene Simmons. Check out his crazy Dominatrix superhero titles here – Gene Simmons Comics
Here's a sweet link to a site that's all about horror comics

Horror Comic Site
After you visit, come on back and tell us
Do you read horror comics today?
Did you in the past but no longer?
Are you sick of zombies yet?
What's the best horror movie based on a comic?
What's the best horror comic yet to be made into a movie?
Don't let the image in this post influence you, even though it's by artist supreme Dan Brereton.
Read More