Heroes: Origins Gets Axed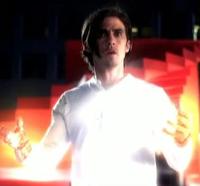 NBC has just announced that they are postponing the debut of Heroes: Origins, the spin-off series to the sci-fi superhero drama Heroes, because of the looming uncertainty of the Writer's Guild of America strike.
The ostensible rationale in postponing Heroes: Origins may well be the looming writer's strike (postponed a week, last we heard, to give the federal mediators more time to try to strike a deal), but I have to wonder if Heroes precipitous slide in ratings has anything to do with it.
I know I'm not the only fan of Season 1 Heroes who has found Season 2 to be boring and muddled. Fans seem to be leaving the show in droves, while, at the same time, new viewers seem to be finding the show too confusing to just pick up in the middle of the story.
Given the fact that Heroes has suddenly gone from breakout network darling to a lackluster Nielsen draw, I can see the logic in postponing a spin-off series, at least until Heroes finds its legs again. What do you think?
Heroes: Origins Officially On Hold! [IESB]
Read More