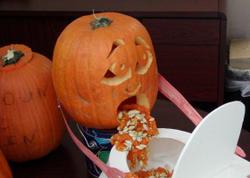 The Bride of Ravenface and I dressed as bacon and eggs for Halloween. She a slender, crispy strip of bacon and I a sunny-side down vision in yolk and albumen. We made our way from party to party and club to club starting in the high-ceilinged bars of Manhattan, down to the secret speakeasies of Chinatown and over the bridge to darkest Brooklyn.
At one point we had to dodge an intoxicated stockbroker dressed as a skillet.
At every party we went to a television or laptop was showing a broadcast or a DVD of a horror movie, and nine times out of ten it was from the Halloween or Nightmare on Elm Street series. Where were the giallo parties, I ask you? Where were the secret silvery Universal classics parties? In your town?
What was playing at your Halloween party?
Read More